It's not all about spending time in the classroom. There are many opportunities for you to get to know your fellow cadets better and increase your skills in a variety of areas. Learn more about these events and activities below.
---
RANGER CHALLENGE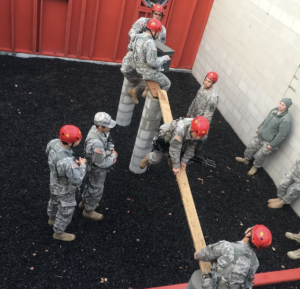 Forming early in the Fall semester, the Ranger Challenge Team trains almost every morning of the week for the Ranger Challenge Competition. This competition challenges Cadets' mental and physical toughness along with developing leadership and teamwork skills. Events include: 10k ruck march, APFT (Army Physical Fitness Test), M16 assembly and disassembly.
---
COLOR GUARD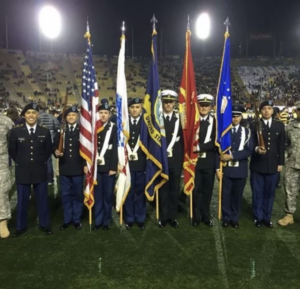 The Golden Bear Color Guard practices once a week, coordinating with both the Air Force and Navy Color Guard for major events, both on and off campus. Notable performances include Golden State Warriors and San Francisco 49ers games.
---
CADET CLUB
The Cadet Club is the student organization arm of the Golden Bear Battalion. It supports Cadets at training events, conducts fundraisers, and improves espirit-de-corps by organizing social events for Cadets outside of training. It also offers leadership positions to younger cadets with guidance and coaching from senior leadership in a collaborative space.
---
AIRBORNE SCHOOL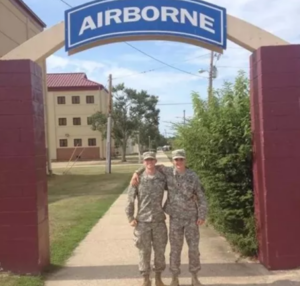 Cadets have the opportunity to attend Airborne School for 3 weeks, located at Fort Benning, Georgia. Widely known as Jump School, Soldiers are both physically and mentally challenged, training to paratroop out of a C-130 and C-17 aircraft. Upon completion, Cadets earn jump wings and become parachutist qualified.
---
AIR ASSAULT SCHOOL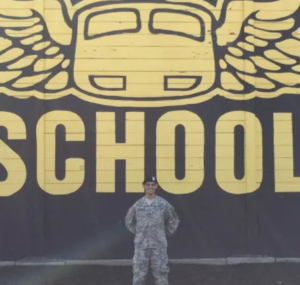 Cadets have the opportunity to attend Air Assault School for approximately 11 days, located at Fort Campbell, Kentucky. Rigorous training is conducted, teaching Soldiers air assault skills involving US Army rotary-wing aircrafts.
---